Women At Dev: Roopal Mehta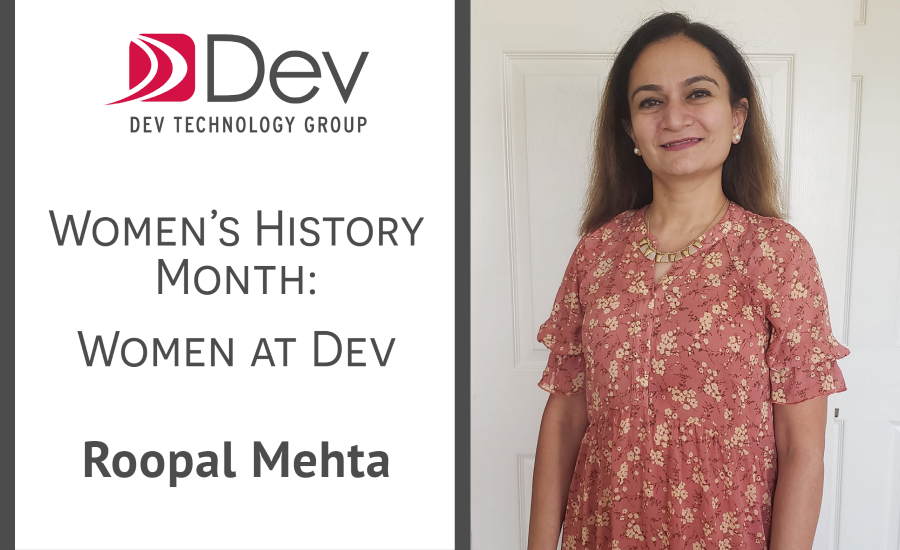 March 01, 2022

Dev Technology Group
In honor of Women's History Month, we're featuring some of the amazing women who work here at Dev Technology. They were each asked a few questions and provided answers in their own words. Today we're featuring Roopal Mehta, a Senior Database Consultant.
How did you get into Database Administration?
After graduating with a Master's in computer science, I had an opportunity to participate in an Oracle Applications DBA training. I showed keen interest in databases and how they were used in the backend of the application. I dedicated my time and effort into learning the databases and as a reward for that time and effort, I was able to get certified. It was time for me to take the next step, and after a few months, I was finally offered the position(s) of Oracle E-Business Suite DBA and Oracle DBA.
How does Dev Technology support you as a woman in tech?
Dev Technology has always made me feel like I was a part of the team, oftentimes even celebrating my achievements. They make it a point to establish a welcoming culture for their employees, regardless of their backgrounds. It is a culture that values diversity and leadership at all levels. The company has also provided benefits such as permanent work flexibility, which is important to me as a mother. Apart from that, Dev Technology has also taken a keen interest to ensure that its employees can learn new skills and fill in gaps in their knowledge through the various trainings that are offered to all employees.
What does Dev Technology's Diversity, Equity, & Inclusion (DE&I) initiative mean to you?
Dev Technology's DE&I initiative has been an excellent venture, in my opinion. It means that employees will have a better work-life balance, will be treated fairly, and will be provided with ample opportunities to learn and grow.  It also means that the company strives to respect and value the skills and differences that each employee brings into the workplace. I believe that helps cultivate a workplace environment where ideas and solutions can be discussed freely.
How do you feel your work at Dev Technology makes an impact?
As a Senior Database Consultant, I have enforced several company policies and guidelines without bringing about any negative reactions, and I believe that was only possible in an environment like the one at Dev Technology. I strive to lead by setting an example for my colleagues to feel free to be able to exchange their ideas to the group. I have had several opportunities to turn existing problems into opportunities for documentation and overall improvement, and I must thank Dev Technology for believing in my work ethic. Having said that, I hope that my work has motivated others to follow a similar path and set an example for the future employees of the company.
What inspired you to join Dev Technology?
Dev Technology was a name in DHS even before I joined the company. I used to work with several employees of the company in my current projects. Every employee I had the fortune to interact with spoke very highly about the company. The perks offered at Dev Technology, such as opportunities for learning new skills, a better work-life balance, and prospects for career growth made me want to work in a company that seems to know how to take care of their employees. So, when the opportunity to work with Dev Technology presented itself, I just had to take it! There were no second thoughts.