Women At Dev: Ramya Velagapudi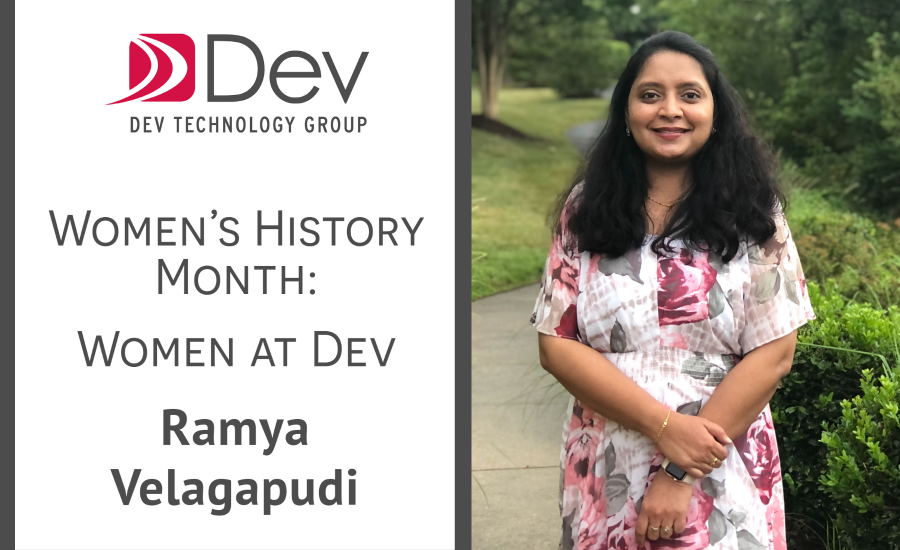 March 10, 2022

Dev Technology Group
In honor of Women's History Month, we're featuring some of the amazing women who work here at Dev Technology. They were each asked a few questions and provided answers in their own words. Today we're featuring Ramya Velagapudi, a Senior Application Developer.
How did you become a Senior Application Developer?
I was always intrigued with computers since I was a kid and pursued STEM in my high school. I took up computer science as my major for my Bachelor's. I started my career in Publicis group as a Java Developer and performed various roles in other companies in Chicago. I moved to Northern Virginia about three and half years ago and started working for Verizon. Having worked for Verizon in an old tech stack, I was looking for a change to work in the federal contracting space and thus ended up with Dev Technology. I am very happy to be part of Dev Technology and to work for Customs & Border Protection (CBP).
How does Dev Technology support you as a woman?
When women have a prominent role in an organization, the doors are open to more diversity which is a major benefit. There are so many women in leadership at Dev Technology that I feel inspired and motivated. Dev supports women in technology at Dev by implementing programs designed specifically for women that help build their leadership and management skills.
What does Dev Technology's Diversity, Equity, & Inclusion (DE&I) initiative mean to you?
Being a woman from India, DE&I means a lot to me. Nurturing and encouraging DE&I creates an atmosphere of inclusiveness among the team or organization. It helps foster respect among team members, celebrating individual differences and creating deep trust and total commitment towards team/company goals. There are many DE&I events Dev has organized and one of my favorites was a Henna Demonstration.
How do you feel your work at Dev Technology makes an impact?
Working in the CBP project made me appreciate the complex and intricate world of customs and how trade flows into our country. CBP is a big project with multiple vendors working together and I always try to demonstrate Dev Technology's core values in my work and interactions with the client. I feel valued working for Dev Technology for the CBP project.
What inspired you to join Dev Technology?
While going through the interview process, I read about Dev Technology and was impressed to learn about Dev's employee–centric culture, the clients Dev Technology supports, and their wide range of missions. I was amazed to know about multiple awards Dev received like the Washington Post's Top Workplaces, Northern Virginia Family Service's CARE Award, and the Department of Homeland Security's Small Business Award which further inspired me to work for Dev Technology.