Women At Dev: Radharani Das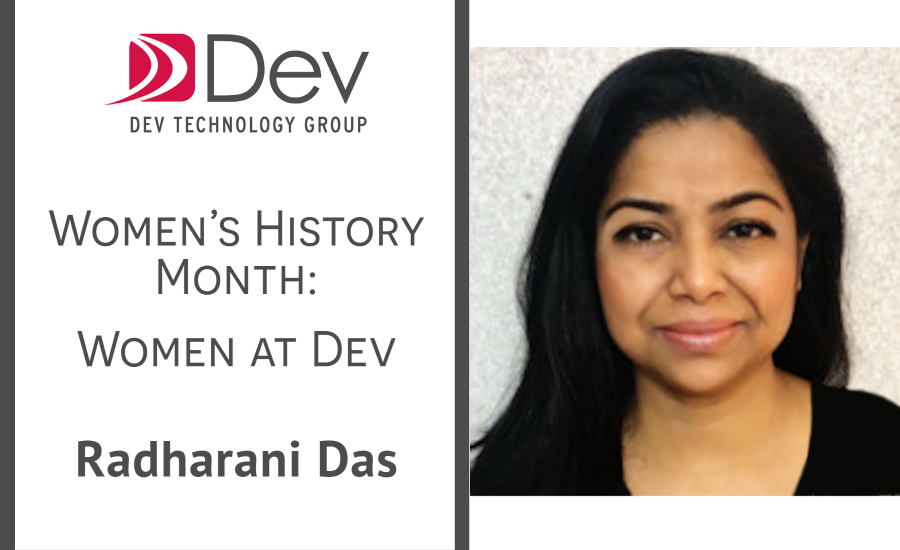 Mar 15, 2022

Dev Technology Group
In honor of Women's History Month, we're featuring some amazing women who work here at Dev Technology. They were each asked a few questions and provided answers in their own words. Today we're featuring Radharani Das, a Senior Application Developer.
How did you get into software development?
Software Development was a natural career choice for me after graduating with a degree in Computer Science and Technology. I love seeing my code work; probably my creative side gets a kick out of it. I also feel a sense of accomplishment when the code works as part of a bigger software system to achieve some useful purpose. I love software development and plan to continue in the same field.
How does Dev Technology support you as a woman?
Dev Technology walks the DE&I walk. I feel no gender bias in work or salary or treatment, and no glass ceilings either. The fact that the CEO and many other top-level executives and many of my colleagues are women, exemplifies that support for women. As a woman, I also appreciate the work life balance Dev Technology provides me.
What does Dev Technology's Diversity, Equity, & Inclusion (DE&I) initiative mean to you?
Dev Technology's DE&I initiative makes me feel comfortable working here knowing that my accomplishments matter and not my ethnicity.
How do you feel your work at Dev Technology makes an impact?
Working for the U.S. Customs and Border Protection as an employee of Dev Technology makes me feel proud. Proud to be working towards improving CBP technological processes and implementing regulations and processes to keep the nation safe.
What inspired you to join Dev Technology?
Great reviews from former employees about company values and culture.