Women At Dev: Deepa Subramanium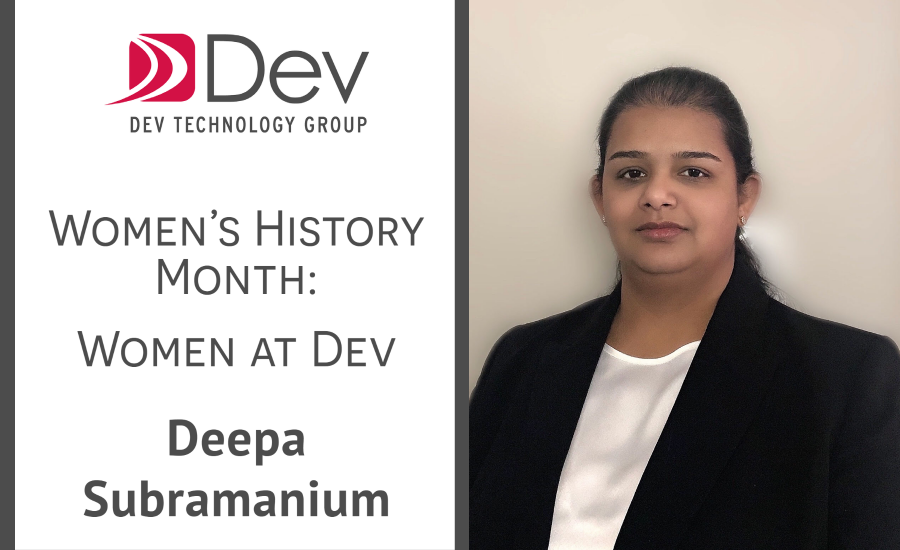 March 24, 2022

Dev Technology Group
In honor of Women's History Month, we're featuring some amazing women who work here at Dev Technology. They were each asked a few questions and provided answers in their own words. Today we're featuring Deepa Subramanium, a Senior Business Analyst.
How did you get become a Senior Analyst/People Manager?
I had committed myself to becoming a physicist during my freshman year in college. I continued to work hard towards achieving my major in Physics. It wasn't until my senior year when I started to develop interest in computers during a computer programming class that I took as an elective. Taking that class promoted an interest in me to continue further education related to information technology and I decided to pursue my Master's in Computer Management. It was then that I knew I wanted to work in the field of information technology to fulfil a role that would help me make a difference. A role that would let me use my analytical skills and identify solutions and provide a prospect to work on multiple initiatives. Working as a Business Analyst allows me to leverage my communication and technical skills in defining requirements and ensuring effective implementation. At the same time, as a people manager I can discover strengths and identify areas for improvement for my team members. I can work with team members and be a mentor for them so they can succeed in their positions.
How does Dev Technology support you as a woman?
As a woman the support I receive from Dev Technology has been outstanding. It has provided me the opportunity to work on challenging stretch assignments, new roles, and make valuable connections with the senior leadership. My manager at Dev has been supportive and encouraged me to advance my skills by providing the pathway to take a course and achieve the Security+ training and certification. She ensures that I am involved in decision making for my team and has empowered me to get things done.
Dev Technology provides flexibility which is most important for a woman to succeed in their career. This helps me balance both my work and personal life without having to compromise. In my opinion women are natural born leaders who are creative and problem solvers with amazing multi-tasking abilities. They can handle new challenges as they come their way. The Women in Technology at Dev group is a great community where women can find inspiration and pathways that will motivate them and share expertise and inspire other women.
What does Dev Technology's Diversity, Equity, & Inclusion (DE&I) initiative mean to you?
I see Dev as an organization that is truly inclusive and provides equal opportunity not only during the hiring process, but the initiatives extend beyond that to provide equal benefit and treatment to every employee regardless of age, gender, ethnicity, physical appearance, mental ability, or anything else. Here everyone is presented with the chance to share thoughts and opinions. It is a company that follows its inclusivity commitment to a 100%.  A company which puts more emphasis on its people with unconventional or different backgrounds.
Dev truly entails the meaning for DE&I:
Diverse – A lot of differences appear in any given situation.
Equality – Ensures that everyone is treated with respect and all programs are impartial, fair and provide equal possible outcome to each employee.
Inclusive – Every employee gets a sense of belonging in the workplace.
How do you feel your work at Dev Technology makes an impact?
As a Business Analyst my work involves working with the client to clarify the scope of work that needs to be completed. Analysts are also the agents that advocate for change as we identify and manage the necessary changes for the project. The work that we do in our project is complex and data heavy, and with every meeting that I am part of it makes me feel that I am part of something important that has an impact not just nationally but also at an international level.
My work at Dev has a positive impact not only on the people I work with or manage but also support the client's mission. When outside of work the people that I meet like to take pride that I am part of this effort, and it encourages more women to start their career in technology.
What inspired you to join Dev Technology?
Dev's mission statement "Dev Technology provides IT solutions to meet the mission-critical needs of government by exceeding our clients' expectations through partnership, a commitment to teamwork, collaboration, and valuing our employees."
And the Core values: – Integrity, Respect, Collaboration, Innovation, Resilience and Community.
These things made an impact on my mind when I first read them on the walls when I came in for the interview. I saw it as a company that values its employees, and that was very important to me, as well as one that believes in teamwork, collaboration and in giving back to the community. The Dev core values were a real inspiration for me to join the company.