Women At Dev: Danielle SanFelice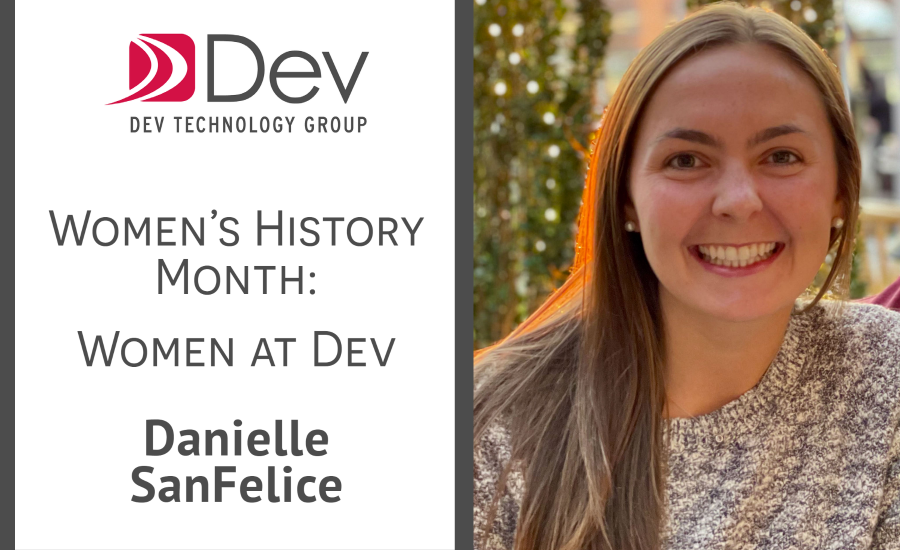 Mar 15, 2022

Dev Technology Group
In honor of Women's History Month, we're featuring some amazing women who work here at Dev Technology. They were each asked a few questions and provided answers in their own words. Today we're featuring Danielle SanFelice, a Deputy Project Manager.
How did you get into your job?
Through a series of different jobs and connections I landed a role at Dev that I've been fortunate to grow in over the past few years. I had a lot of different internships throughout college, never really doing the same thing and not really in the IT world. When I was looking for a new role, I saw an old connection from one of those internships post a business analyst position available at Dev Technology that I applied for and that's pretty much how I got started. I was placed on a great project that has allowed me to get a lot of experience in the Microsoft world and grow into a PM position.
How does Dev Technology support you as a woman?
I'm consistently presented, and encouraged, with new opportunities to get involved including professional networking groups, volunteer groups, and new project opportunities. The support really goes beyond our day-to-day work, from volunteering at the women's shelter to seeing Michelle Obama speak, you truly are presented with great resources and opportunities.
What does Dev Technology's Diversity, Equity, & Inclusion (DE&I) initiative mean to you?
Dev is made up of so many great individuals with many backgrounds and I'm fortunate to work with so many great people that I get to learn from. The DE&I team at Dev is always coming out with new and engaging initiatives to involve the Dev community. Dev's work never stops internally, we're always offered the opportunity to support Dev's equity and inclusion efforts within the community. I'm proud to work at a company that truly values and prioritizes inclusion and diversity.
How do you feel your work at Dev Technology makes an impact?
We're often reminded of the real world impact our day-to-day project work has and the benefit provided to our customer. Whether it's a news article or simply kudos from the customer that we've made their job more efficient, we're able to directly see the positive impact our work at Dev has provided.
What inspired you to join Dev Technology?
When joining Dev you definitely get the new company feel-good culture impression but it's not until you actually experience it that you can appreciate the community and culture they've managed to keep throughout the company. If I haven't already said opportunity enough, that's what you get at Dev. I would recommend Dev to any friend or colleague because I truly enjoy being a part of the Dev community.