Women At Dev: Casey Acosta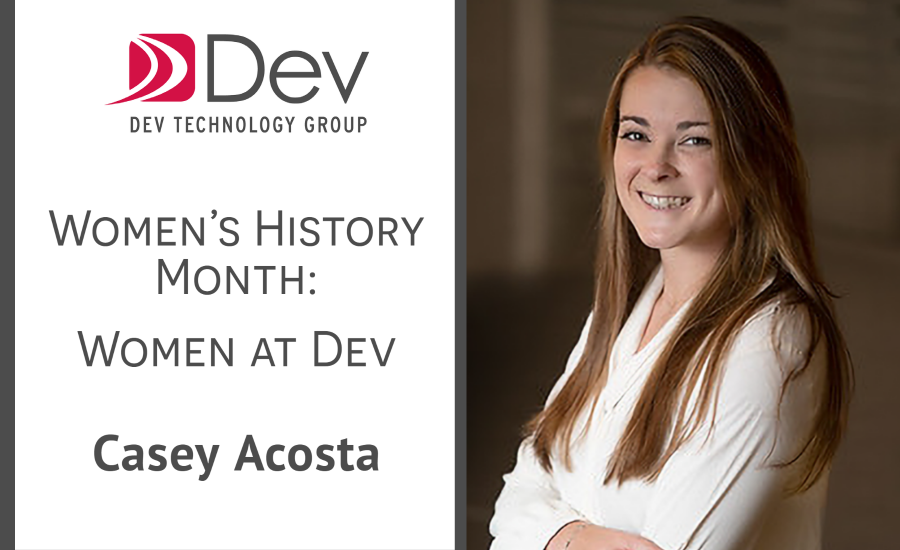 March 08, 2022

Dev Technology Group
In honor of Women's History Month, we're featuring some of the amazing women who work here at Dev Technology. They were each asked a few questions and provided answers in their own words. Today we're featuring Casey Acosta, an Associate Business Analyst.
How did you get into your job?
I studied Economics and Sports Communication at Clemson University, and I had no intention of building a career in IT consulting. I applied for an internship at Dev Technology my junior year of college to have a summer job, and I ended up falling in love with the company and being inspired by Dev's dedication to the mission. I interned as a Business Analyst in the summer of 2019, and I found that my college education uniquely qualified me for the position. I was good at analyzing data and people, which is really Business Analytics in a nutshell. I learned a lot about myself and my skills in my internship, and I was thrilled to be taken on as a full-time employee after graduation.
How does Dev support you as a woman in tech?
The most important way Dev has supported me as a woman in technology is by surrounding me with countless examples of strong, successful women at all levels. I knew Dev had women in leadership when I applied for an internship, and it was this environment that brought me back to Dev full-time out of college. I see successful women in the workplace every day, which constantly reinforces that I can do anything I want to do.
In my short career, I have never had to feel like a woman in technology because I have not been discriminated against based on my gender. That is unusual in this industry. I know that I am one of the lucky few to have only worked in such a supportive environment, and I am so thankful to the women who came before me at Dev Technology who created this culture.
What does the Diversity, Equity, & Inclusion (DE&I) initiative mean to you?
Dev Technology's DE&I initiative is important to me because even though I have always worked with a diverse group of people, I still have so much to learn about my own unconscious biases and how to best support my coworkers. Participating in educational DE&I events with my coworkers provides us with a common understanding of important topics and allows us to share more about ourselves with each other than we would in an average workday. This initiative makes us better people in and out of the workplace and gives a voice to everyone at the company.
How do you feel your work at Dev makes an impact?
I believe the opportunities I have been given at Dev have allowed me to make an internal impact on the company, and an external impact on the customer.
Internally, I feel I have the most impact with our summer internship program. I co-lead the program and I work very hard to give every intern the same experience that I had. We focus on bringing the interns into the company culture from day 1. I hope to set a high expectation of what an office environment should look like, so they accept nothing less than the best as they move on in their careers.
Externally, working on mission driven applications allows me to see the impact of my work in real time. On several occasions, I have seen stories in the news one morning that directly led to new requirements that afternoon. Seeing the impact of my work has been one of my biggest motivators in this job. I know that if we do our job well, real people's lives will be improved immediately.
What inspired you to join Dev Technology?
There are many things that drew me to my internship at Dev Technology. From the vibrant office culture to the mission focused work, I loved everything about the company. A major factor that piqued my interest in Dev Technology was how many women I saw in leadership positions. Not only was Dev cofounded by a woman, but the new CEO was also a woman. I have always been told I could be whatever I wanted to be, but Dev was filled with women walking the walk. I knew I could find mentorship and friendship in this community. I knew coworkers would not make assumptions about me based on my appearance, and I would have the opportunity to learn and grow in a safe, comfortable environment.