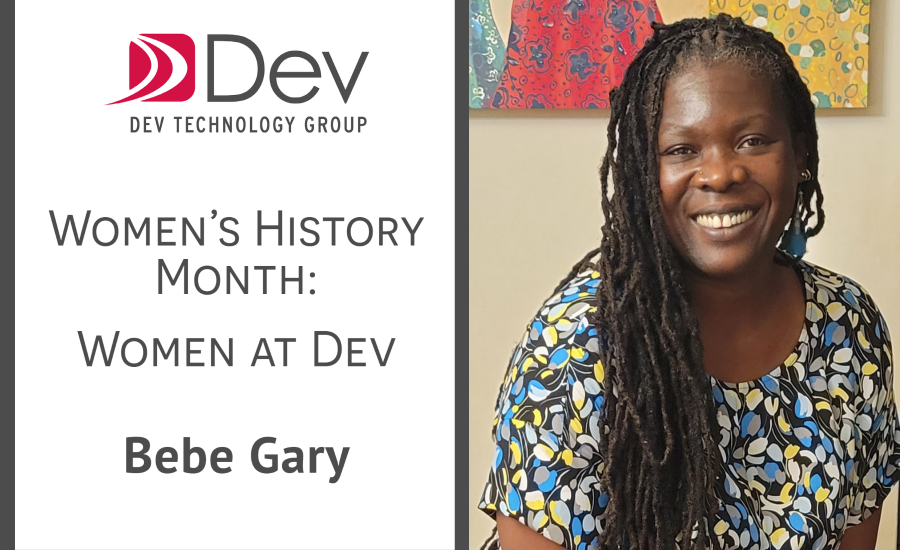 March 22, 2022

Dev Technology Group
In honor of Women's History Month, we're featuring some amazing women who work here at Dev Technology. They were each asked a few questions and provided answers in their own words. Today we're featuring Bahiyyah "Bebe" Gary, an Associate Business Analyst.
How did you get into your job?
I may not have been in or part of the Information Technology (IT) Industry, but throughout my life all dealing with IT were introduced, learned, taught, and worked with. My husband, son and I moved to Herndon, Virginia in 2010 due to an unfortunate family-related issue. Since we weren't in a rush to find employment, we enjoyed our time off and lived happily off our savings. After residing in Virginia for one month, the happiness was gone, and our funds were draining drastically. We realized we needed JOBS! Resumes were updated. Joined tons of job platforms. Signed-up to loads of temporary agencies. Calls finally started coming in and interviews were set. I had an appointment in Tysons Corner with a recruiter. She was a big ball of sunshine and a delight to talk to. Our interview lasted over an hour, and she informed me she had multiple potentials that were looking for someone with my set of skills. Within a week,  I had an interview with the Chief Financial Officer (CFO) of an IT Company in Herndon.
The day arrived, but I didn't realize what I was in for. I reached there 15 minutes early and told the receptionist of my appointment. She confirmed and placed me in a conference room to wait. When the CFO walked in, I stood up and introduced myself with a firm handshake. The CFO was thoroughly looking over my resume and then he stops. He looked at me, then back at the paper…then back at me. He said, "What's your name?" I told him my name, but he looked at me as if I was speaking another language. I repeated it again; however, it didn't seem it was registering. So, he asked, "Is there another name you go by?" I said, Bebe. Then, he proceeded to take off his shoes stretched out legs across the table and crossed them. He conducted the entire interview just like that until we were done.
Let's just say this is how Bebe was introduced and documented into the IT workforce. It hasn't stopped, so Chello, I'm Bebe Gary!
How does Dev Technology support you as a woman in tech?
Dev Technology supports me in so many ways. Dev Technology has created learning opportunities. They have hired women in leadership roles. They support women strategically. Their mentorship program and promoting women. We are privy to notifications about what our women tech leaders are doing by sharing it in Dev Technology Newsletters, blogs, and social media platforms. Dev Technology offers opportunities to attend women-speaking webinars and speaking engagements to pass on their wisdom. Due to the many elements and challenges women face, Dev Technology has provided a better understanding of what women can do on their part. It is amazing to see the many beautiful women here at Dev Technology and I don't feel discouraged. Dev Technology also helps increase awareness, builds credibility, and even inspires other women out there to join the tech field or one even better, join Dev Technology. You will be welcome and become a part of the growing family that will be there for you. If you read all my other answers, then you can see how Dev Technology supports me.
What does the Diversity, Equity, & Inclusion (DE&I) initiative mean to you?
Dev Technology's Diversity, Equity, & Inclusion (DE&I) Initiative permits many different individuals to participate in open and inclusive interests. It gives us an opportunity to show off our unique differences and niceties that make us so interesting and different. We ALL cannot be the same, then where would we be able to shine our uniqueness. It's our contrast and irregularity that makes us stand out and worthwhile. We are to encourage change. It is possible to do. Remember the old saying, "It takes a village to…" Well, that includes EVERYONE at Dev Technology, even YOU. Innovate. Explore. Check out their great deal of resources, how to promote discussions, and interactions that can be adapted and adopted. During your journey, Dev Technology can continue to help build the change we all want to see.
How do you feel your work at Dev makes an impact?
When I came to Dev Technology, I was hired as a Junior Business Analyst. At that moment, my previous skills were all I had. I thought I didn't have the capability to do the job or imagined I wouldn't comprehend or grasp what needed to be done. I was scared and I felt I struggled as a Junior Business Analyst, but somehow, I was able to maneuver through. Having people asking for your assistance, the doubts went away, so I wanted more. From previous experiences, I have tried to gain more knowledge and skills, go to trainings, or be provided with educational resources. It was always a tough road for me or an outright "NO." So, when Dev Technology took a proactive approach to my professional growth, I was awed.
My Project Managers and/or Team Leads provided feedback in real-time. They set up weekly a check-in to discuss my goals, monthly progress, training and resource needs, and any other concerns – personally or professionally. I have worked on a variety of interesting and impactful work – from the Smithsonian National Museum of African American History and Culture to critical national security projects across the Department of Homeland Security. I've helped organize millions of records, resolve critical systems issues, capture new functionality and requirements. These efforts have challenged me, helped me grow and find new skills, new abilities, and new knowledge along the way.
Since being on multiple contracts, Dev Technology offered me many trainings and educational resources. I was able to take the Certified ScrumMaster Training Course and passed it. I attended several Agile Courses to keep my license current and renewed the past December. I've taken tons of courses through Dev Technology's training platform to increase my skills and knowledge. I have joined the Dev Leadership Book Club and Fun Patrol Club. I joined the Mentorship Program and was mentored by Sherri Elliott for one year and half. Sherri stated, "During the time I have been mentoring Bebe she has shown great improvement. She listens and is eager to help & grow. I call her a 'quick study.' She listens to what is explained, she studies and makes the adjustment/application immediately. She has been on 2 projects and has excelled & become a valued member of the team. Keep growing & going! I am very proud of her!" I'm also a current member of the Dev Toastmasters Club. I'm working towards getting my ITIL Certification. It has been nonstop and appreciated.
What inspired you to join Dev Technology?
My inspiration to join Dev Technology is that they created a culture that encourages communication along with their Core Values: INTEGRITY, RESPECT, COLLABORATION, COMMUNITY, INNOVATION and RESILENCE. They provided me with resources needed towards my career development, so I can perform at optimum level. Dev Technology managers provide ongoing, constructive, timely, and supportive feedback to boost my performance in developing success and professional growth. The managers are my point of contacts for other projects. The recognition of my contributions, willingness to get the job done and incredible work ethics. And a quote from an awesome manager to motivate you, "Bebe's willingness to get the job done is refreshing! She raises the energy level of any group she interacts with. Her desire to learn will serve her well. Her work ethic is phenomenal!" THANKS Darryle Stephens! Words can neither qualify nor quantify how Dev Technology contributions on developing my career. So, that's my inspiration.