Navigating A Career In IT As A Woman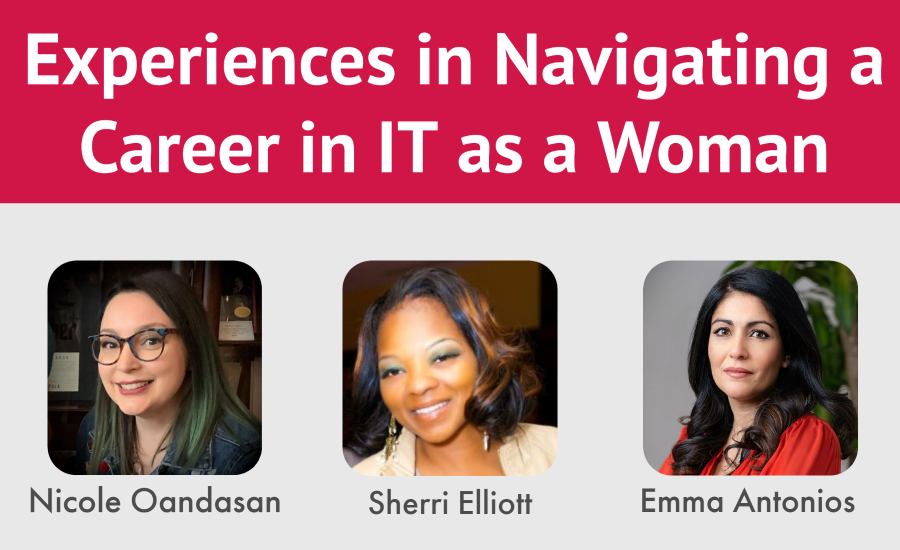 Nov 17, 2021

Dev Technology Group
There was a time when women in IT were almost unheard of. While that has changed slightly, today only 25% of employees in the tech sector are women and this presents unique challenges for women interested in working in or who currently work in the field. As women in IT, we wanted to share our thoughts and stories to help others navigate their careers in this rewarding industry.
Nicole Oandasan:
"Life is about the journey, not the destination."
For me, it was actually about both.
I had originally intended to go the expected route of a high ranked, four-year college that had been a family tradition. But when I discovered during new student orientation that my area of study was no longer offered, I was forced to think on my feet. A few days before Fall Semester was set to begin, my grandmother, who was a counselor at Northern Virginia Community College (NVCC), saved the day.
At first, I resented this back-up version of education. I was only going to be here temporarily until I could get back to my "real" goal. But along the way I discovered that NVCC was a valuable step on my journey to where I am now.
At NVCC, I was able to dabble in community service, networking, tutoring, and new areas of study. The classes were flexible for day, night, and even weekend students, and the students themselves were just as diverse. I met fellow graduates, technical specialists, and mid-life career changers alike. I was able to develop independence and confidence before I transferred to the University of Virginia. At UVA, I was grateful that I had been able to choose my own general education prerequisites at NVCC – that seamlessly transferred – so that I could focus my studies on my major.
It wasn't so much about the actual classes that I took while I was in college, but the skills I learned while I was there: perseverance, adaptiveness, critical thinking, and confidence. I was able to apply these to transferring schools, applying for jobs, and changing careers. Trust me, trying to get hired as a web designer with a degree in East Asian studies requires all of these.
Sherri Elliott:
Perseverance is doing something despite difficulty, but how can you overcome difficulty, challenges, and barriers on your path that may delay your career? Often people feel that their path must be clearly defined from the beginning, follow that exactly, and that is how they become successful.  Any path is full of twists and turns, and learning how to navigate it takes tenacity, focus, and determination. Where you begin is not a guarantee that you will end where you expect to.
The best thing about any path is that you get to choose if you will stay on it or change course. The first thing to do is be aware of who you are, where you are on your path, and the requirements for your desired next steps. One of the best ways to educate and equip yourself is to obtain a mentor.  Having a mentor can accelerate self-development, career progression, and overall confidence. A mentor is also a gateway to creating a business network.  While having a mentor and a strong network are key ingredients for perseverance in your career, it is not the sole option to overcoming barriers.  Continuous education through instructional training, asking questions, and reading books for technical, soft, and management skills will provide another form of armor.
Most importantly you hold the keys to your career: always seek knowledge and council, work to grow your network, don't allow yourself to be placed in a box, be determined, and always advocate for yourself.
Emma Antonios:
Reaching your destination and having the tools and perseverance to overcome challenges to help you arrive are essential pieces to any career path. But how do you continue to move forward and advance in your career, particularly in male-dominated fields like IT? Five tips that I wish someone shared with me early in my career can help you speed up your career trajectory:
Have confidence in yourself: Pushing through fear drives the action you need to advance your career. Confidence also means showing vulnerability and asking questions.  Learn everything you can about your business, not just your role, and use that knowledge to help position yourself for the next step in your career.
The next step isn't always a step up: Remember that career growth in not always linear; it is not always one step up from where you are today. Growth does not necessarily mean becoming a manager or leading a bigger team.  It means finding the role that is most closely aligned to your strengths and goals. Professionals often feel like they should have a plan to climb the traditional corporate ladder. But most successful leaders walk a nonlinear career path that takes them to places they could have never imagined.
Reframe imposter syndrome: Remind yourself that you were hired because you were the best person for the role. Instead of doubting yourself and your abilities, give yourself credit for your accomplishments. Spend at least as much time looking towards your strengths as you do focused on your shortcomings. It is easy for women to minimize success, but it essential to reframe self-doubt. Focus on being yourself instead of doubting yourself and you will bring that to your organization and everything you do. Allow yourself to use feelings of imposter syndrome to challenge yourself instead of paralyzing yourself.
Surround yourself with advocates: Find other women who have walked the path before you and who can help you navigate the challenges of being a woman IT. When one woman helps another, amazing things can happen. Network and ask others about their roles, their backgrounds, and ask their advice on how you can achieve your goals. Most of all, advocate for yourself. Learn what drives you and how to communicate that.  You are your own best advocate, so find your voice and use it!
It's ok to start over:  You never have to have it all figured out. Life is an evolving journey, and we all change over time. There are times when your current career path is no longer aligned to your interested and needs. While it is often scary to make huge life changes, especially those related to your financial stability, there is no reason to remain on a career path, at an organization, or in an industry that is not aligned to your happiness and goals. It is never too late to start over!
Join all of us November 17th at 4PM as we participate in Northern Virginia Community College's Women in IET and Computer Science Coffee Chat. We will be part of a panel discussing our personal journeys into IT, advancing in our careers, and overcoming adversity. Learn more and register at http://iet.novastem.us/techwomen.