I DARE You To Say YES! – Tips To Successfully Search For Your First IT Job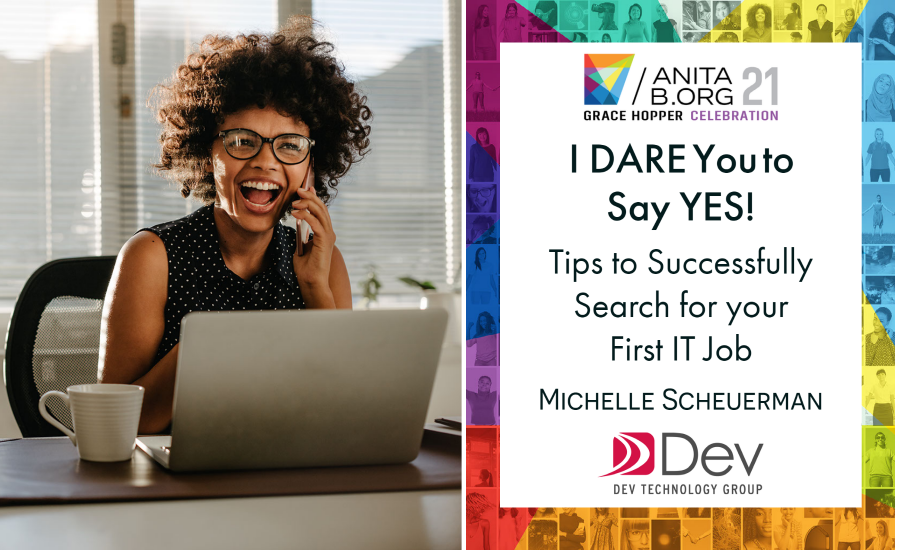 September 27, 2021

Michelle Scheuerman
Finding the right first job in tech is a frightening prospect. In some respects, the possibilities seem limitless, yet in other respects, the task seems impossible. As part of the AnitaB.org Grace Hopper Celebration in their Anita Borg On Demand Studio, I will share practical tips and advice about how to effectively say YES and find the right first job in the tech field as well as how to thrive after you start working. View my presentation at https://www.gracehoppercelebration.com/agenda/session/609391. You can also chat with me live during my Speakers' Corner Q&A session on Wednesday, September 29 at 4PM ET/1PM PT.
Here are my five strategies of "Saying YES" that everyone searching for their first tech job should use.
Say YES to Promoting Yourself – It is time to become your biggest cheerleader. While you may have spent your college years encouraging everyone around you, it is now time to promote yourself. This means ensuring your LinkedIn Profile has a professional picture and a good description of your experience; your resume is polished, professional, and easy to read; and you have references lined up and ready to go. And be sure to go that extra mile – attach a personal note when you send your resume to someone and follow up with a thank you note. Do anything you can to create a positive impression on everyone you encounter as you never know where a potential job could come from.
Say YES to Asking for Help – After you are ready to promote yourself, it's time to ask for help. Ask for referrals for potential jobs. Ask that your resume be circulated. Ask for help to role play a mock interview. Ask for advice on how to have an effective Zoom interview. Leverage your contacts – and those of your parents, friends, neighbors, relatives, everyone! Dare to ask for help in everything related to finding your first tech job.
Say YES to Feeling Uncomfortable – After you have promoted yourself and asked for help, it's time to interview. Just the thought of an interview makes a lot of people uncomfortable. It will be a new experience; you won't be sure what questions will be asked, or how to effectively prepare. You will be uncomfortable. But dare to say yes to every interview. An interview for one position could lead to a referral about another one, or you could learn what you aren't looking for in a company. You will only grow and learn if you're willing to put yourself into uncomfortable positions.
Say YES to Saying No – After the uncomfortable interview, a job offer may come your way! Ensure it's the right offer. Did you feel a connection with the people you interviewed with? Are you excited about the work you'll be doing? Does the job align to what you are looking for and meet your goals? Does it feel "right"? If the answer to any of these questions is no, dare to say no. Walk away if you feel like you are settling. It is critical that you take the "right" job offer and oftentimes that is not the first offer you receive. The right job offer will come.
Say YES to Jumping In – After your start your first job, dare to say YES to jumping in. Focus on learning and doing your job with as much energy as you put into finding the job. Also learn all that you can. Ask questions – it's okay and expected! Attend the corporate functions and get to know the people on your team. Figure out how to keep the technical skills that got you the job current and invest in yourself. Offer to help where you can and be the model team player.
Now that you've learned the five strategies of "Saying YES," reflect on times when you have dared to say YES and what the results were. Also, reflect on times when you said no to an opportunity and what you learned from that experience. Use these insights to determine an actionable step to take within the next week to advance your job search. Write down your commitment, revisit it in a week, and identify future strategies which can be employed. Finding your first job in tech can be hard, but it is possible.
To view my on-demand presentation, visit https://ghc.anitab.org/attend/vghc-21-agenda/ and search for Michelle Scheuerman. You can also view the slides for my presentation by visiting my GHC 2021 page on our website. I hope to see you on September 29 at 4PM ET/1PM PT at my live Q&A session!
#DareTo #Innovate #Elevate #Transform #WomeninTech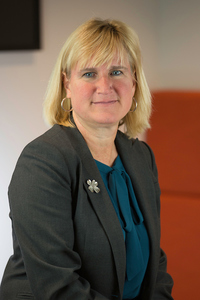 Michelle Scheuerman
Vice President, Strategic Programs
Dev Technology